Fort Lauderdale Rideshare Accident Lawyer
If you have been injured in a collision involving a rideshare vehicle, you need an experienced lawyer on your side. The Fort Lauderdale Uber rideshare accident attorney at Sharmin & Sharmin P.A. will hold the responsible party accountable for medical bills, pain and suffering, lost wages, and more. We have over two decades of board-certified trial experience that we put behind every case, whether you reach a settlement agreement or take your case to civil court. We will investigate the facts and circumstances surrounding your car accident injuries so that we have the evidence necessary to hold negligent rideshare companies accountable.
Find out more about how we could help you recover a fair and just settlement. Get your free consultation with Sharmin & Sharmin P.A. now at 1-844-SHARMIN or send us a message online. Let us know if you are too injured to travel so that we can come to you or arrange for a secure video conference.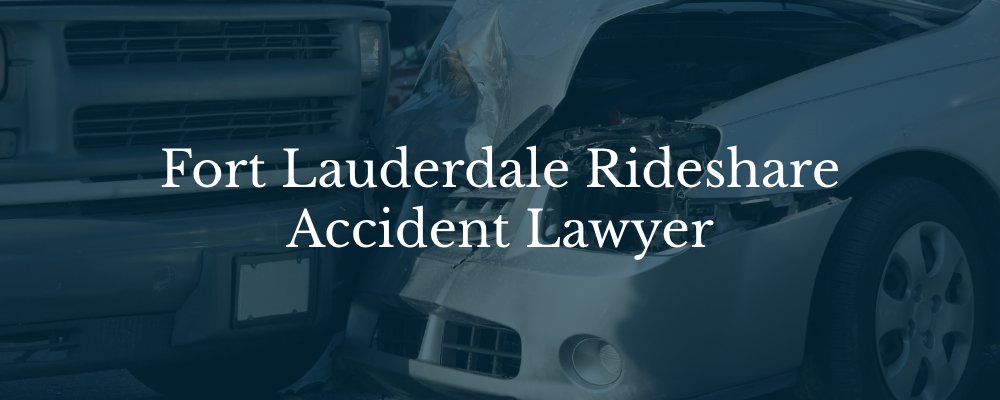 Sharmin & Sharmin P.A. Aggressively Pursues Claims Against Rideshare Companies
Ridesharing providers have become a clear choice among consumers in Florida. Although ridesharing tends to be less expensive and more convenient than traditional taxis, it is still risky to get into a car of an untrained driver. As their popularity grows, rideshare accident injuries rise.
Regardless of size, Sharmin & Sharmin P.A. will hold even the biggest names accountable for a motor vehicle accident, including:
Uber
Lyft
iRyde
SuperShuttle
Other rideshare companies
If you were injured or lost a loved one in a rideshare accident, contact Sharmin & Sharmin P.A. to discuss your legal options. Our Florida Uber accident attorney will analyze your case at no cost to determine if you have a valid claim against the rideshare company, rideshare driver, or other liable third party so that you know who is liable for paying your car accident compensation.
Fort Lauderdale Rideshare Accident Statistics
Around 8,000 car accidents occur in Fort Lauderdale every year. With an overall 3% rise in traffic accidents since the rise of the rideshare industry, experts estimate that accident numbers in Florida have risen by about 10,000 per year. Other impacts on Fort Lauderdale traffic since the popularity of rideshares includes:
Nearly 90% of Uber and Lyft car accidents occur in urban areas like Fort Lauderdale

The

Uber 2019-2020 safety report

revealed about 100 rideshare-related traffic fatalities per year

64% of Uber-related fatalities were pedestrian accidents

Fort Lauderdale has a stunning pedestrian death rate of 14.71 deaths per 100,000 residents,

one of the highest in the nation

Rideshare vehicle/pedestrian collisions at pickup points are on the rise

In January 2022, Uber reported 131 million monthly registered users and Lyft reported 20.3 million registered monthly users
Many rideshare drivers report cruising the streets of Fort Lauderdale and elsewhere while awaiting a booking, contributing to traffic congestion even when they are not actively transporting passengers.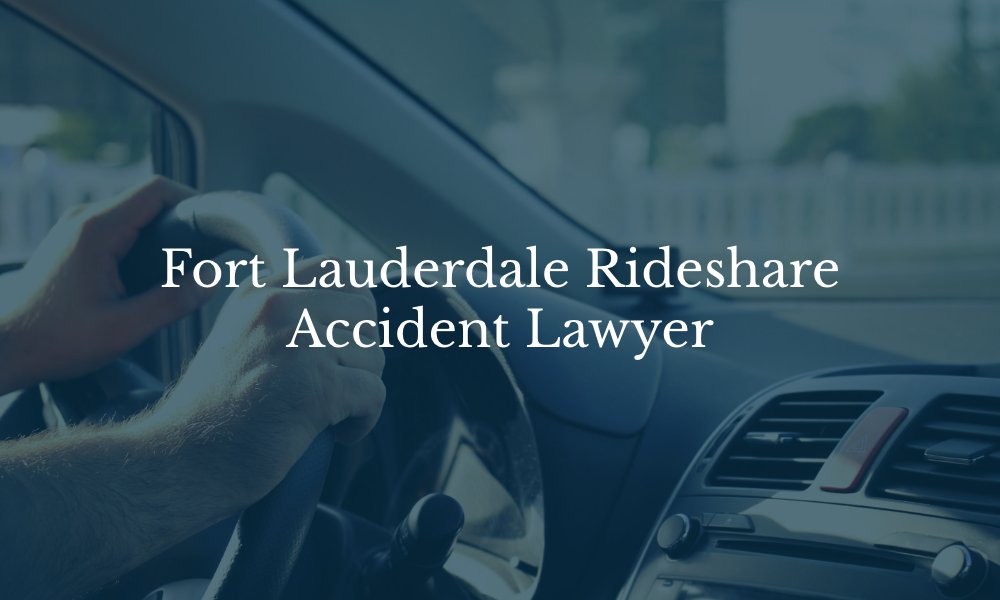 How Dangerous Are Fort Lauderdale's Roads?
Fort Lauderdale sees a large number of car accident traffic fatalities annually, especially at intersections along Sunrise Boulevard and with the highest number of fatalities between Bayview Drive and Andrews Avenue. Many accidents also occur in the tourist area bounded by Andrews Avenue and NE 2nd Street, SE 2nd Street, and US 1, where there are many hotels and museums. Uber reports that the majority of their accidents are caused by:
Speeding

Intoxicated driving

Fatigued driving
The state of Florida reports the most common causes of car accidents in Fort Lauderdale are:
Careless or distracted driving

Tailgating

Failing to yield the right of way

Unsafe lane changes

Running red lights
Both traffic deaths and pedestrian deaths are shockingly high in Fort Lauderdale. While the city hopes to improve these numbers with upcoming infrastructure changes under its Vision Zero improvement plan, rideshare vehicles continue to rise on the city's streets, contributing to traffic congestion and motor vehicle accidents.
Evidence Is Critical for Winning a Rideshare Accident Injury Claim
Your rideshare accident case will require evidence to prove liability, causation, and damages, just like any other personal injury case in Florida. It is also critical to collect and preserve it properly and legally so that integrity remains intact for admissibility purposes.
Your Fort Lauderdale rideshare accident attorney may gather various forms of evidence, including:
Photos
Videos
Police reports
Eyewitness statements
Expert testimony
Receipts
Medical bills
Other forms of evidence
Sharmin & Sharmin P.A. will prepare your case for trial, but our goal is to help you obtain the compensation you need as soon as possible via a negotiated settlement. We will conduct witness interviews, assemble evidence, handle correspondence with the insurance company, and guide you through the entire claim process if you decide to hire our Fort Lauderdale Uber and Lyft accident firm to represent your case.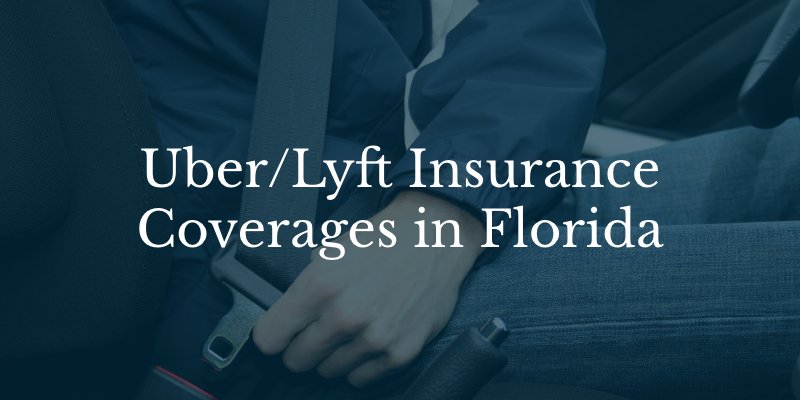 Uber/Lyft Insurance Coverages in Florida
Florida law compels rideshare companies to provide special insurance coverage for their contracted rideshare vehicles. Rideshare insurance works on a complex, tiered structure providing different coverage for different stages of the rideshare experience. Rideshare's insurance provides the following coverages to accident victims:
When a rideshare driver uses their vehicle for personal reasons, their private Florida auto insurance policy is in place

Once the driver turns on their app and actively awaits a booking, their rideshare insurance provides up to $25,000 in property damage and $50,000 in personal injury coverage or $100,000 per accident

Once the driver has booked a passenger, drives to the pickup location, and throughout the drive transporting the passenger, the top-tier insurance coverage is in place providing up to $1 million in property damage and personal injury coverage
Navigating the insurance claims system after a rideshare accident can be particularly challenging. Often, insurance representatives will attempt to deny that their policy was in place at the time of the accident. A skilled motor vehicle accident attorney with years of experience with rideshare accident claims can investigate the circumstances of your accident to determine coverage for your injuries and property damage.
Our Fort Lauderdale Rideshare Accident Attorney Offers Legal Advice
Your ability to recover reasonable compensation depends upon several factors. The Lyft accident attorney in Fort Lauderdale at Sharmin & Sharmin P.A. will explore every possibility of obtaining a fair and just settlement or civil award for your losses, while holding Uber drivers and Lyft drivers accountable. We have the experience, resolve, and understanding of Florida law to take on even the largest insurance companies and corporations.
Call Sharmin & Sharmin P.A. for a Free Consultation
Deadlines apply to rideshare accidents, and other rules will apply. Learn more during a free consultation with Sharmin & Sharmin P.A. by calling 1-844-SHARMIN or telling us about your case here. We do not get paid until you win your case.