Florida Lyft Accident Attorney
Our Florida Lyft accident attorney at Sharmin & Sharmin P.A. has recovered millions on behalf of clients. We have put more than 20 years of experience behind every new case that comes across our desk. There is no one-size-fits-all solution if you decide to hire our injury lawyers to represent your case, as we approach every matter from a fresh perspective when investigating liability, preserving evidence, or explaining Florida law to clients.
Learn more with a free consultation by calling Sharmin & Sharmin P.A. at 1-844-SHARMIN. You are also welcome to message us here. If you hire us, there are no attorneys' fees until you win your rideshare accident case.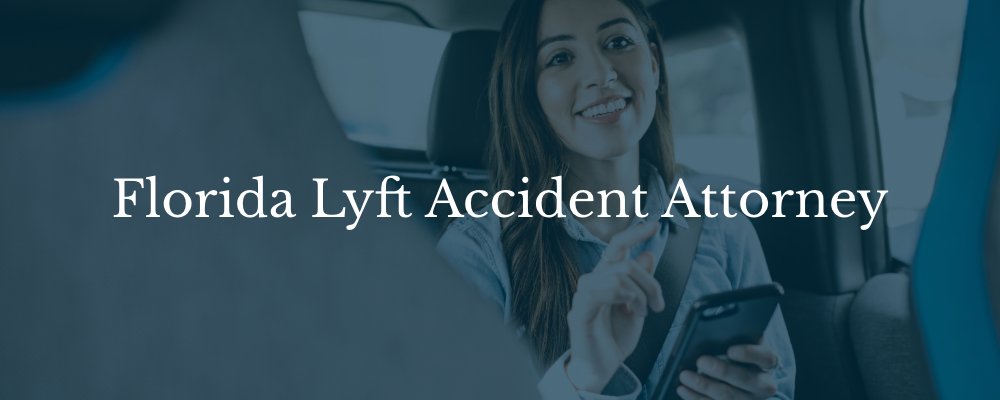 What Causes Lyft Rideshare Accidents?
Distracted driving is one of the main causes of Lyft rideshare accidents in Florida. Miami rideshare accident lawyers commonly find that drivers use their apps and GPS throughout the rideshare journey at the same time Lyft or Uber drivers are typically making small-talk conversations with their passengers and looking for their next customer. Other common causes of Lyft accidents include:
Speeding in order to maximize the number of rides completed per shift

Driver fatigue due to the fact that many Lyft drivers work long hours or drive for Lyft for extra income after another job

Intoxicated driving

Inexperienced driving 

Traffic violations such as unsafe merging, rolling through stop signs, disregarding traffic signals, and reckless driving in order to maximize passenger numbers per shift

Road rage may also contribute to Lyft accidents since driving long hours can cause irritability and frustration
Whether you were a passenger in a Lyft vehicle during the accident, in a second vehicle in an accident with a Lyft vehicle, or a pedestrian or cyclist hit by a Lyft vehicle, you deserve compensation for your damages. Its important to note that other rideshare companies have differing privacy policy that can impact each Uber car accident case differently, including in the event of an Uber accident.
We Will Investigate Your Accident for Lyft Driver Negligence
Before getting behind the wheel, ridesharing companies screen Lyft drivers, but they do not receive specialized training. This situation can give rise to a force of poorly trained drivers on Florida's roadways, making conditions dangerous for everyone. The Florida Lyft accident lawyer at Sharmin & Sharmin P.A. will hold the liable driver or insurer accountable for injuries they have caused you.
You may be able to recover personal injury compensation for the following acts of Lyft driver negligence, including:
Distracted driving
Hazardous passenger pick-ups
Aggressive driving
Poor vehicle maintenance
Intoxicated driving
Fatigued driving
Insufficient area knowledge
Poor road design
Negligent driving
And more
A third-party motorist could also be responsible for your injuries znd medical treatment. Regardless of how many parties are at fault for your injuries, you can count on Sharmin & Sharmin P.A. to hold them fully accountable for your rideshare accident losses, such as medical bills, missed time at work, and pain and suffering.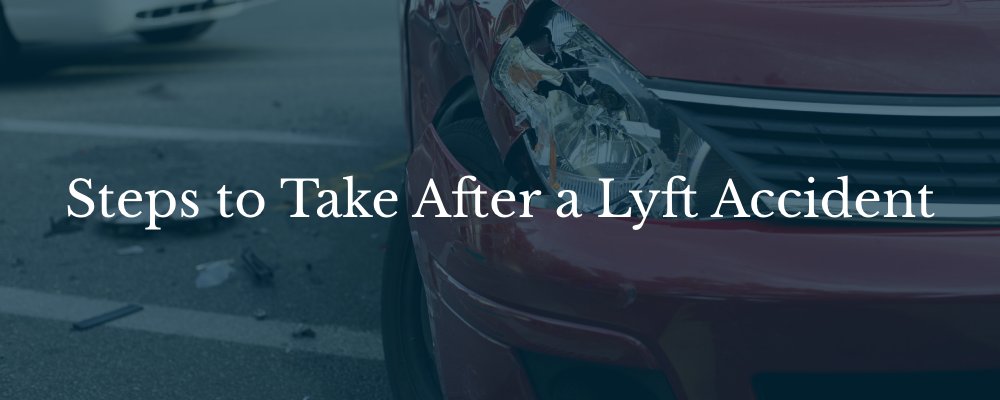 Steps to Take After a Lyft Accident
The aftermath of an accident may be traumatic and painful but keeping a clear head can help you protect your physical and financial recovery. If you're not incapacitated or severely injured, take the following important steps after a Lyft accident:
Move to the shoulder of the road and call 911 to report the accident

Render reasonable aid and comfort to any other injury victims

While waiting for first responders, use your phone to take photos of the Lyft car and any other involved vehicles

Use your phone to take photos of the accident scene and any involved traffic signs, lights, yield signs, intersections, or obstacles

Collect contact information for all involved drivers and any eyewitnesses

Seek medical help as soon as possible, either through transport to a hospital by paramedics or by a visit to an emergency room

Tell the medical professionals about every symptom and ask for detailed records of your injuries, recommended treatment, and prognosis

Ask for a copy of the police report

Call a Florida Lyft Accident Attorney to discuss the details of your case
Damages Available in a Lyft Accident Claim
Car accidents can become expensive very quickly. If you were in a second vehicle, you may have property damage as well as injuries. If you were a passenger in a Lyft car damaged in an accident, you may have sustained significant, serious, or even life-altering catastrophic injuries. It's likely that you have bills piling up at the same time that you are enduring medical treatments and unable to return to work. A successful Lyft accident claim could recover the following damages:
Past and future medical expenses related to your injuries

Lost wages and future lost income, including lowered future earning compensation for victims who've become disabled from the accident

Pain and suffering

Other applicable non-economic damages such as disfigurement, loss of pleasure in life, or limb loss
An attorney from Sharmin & Sharmin P.A. will investigate your accident, prove liability, and negotiate from a position of strength to maximize your compensation.
Sharmin & Sharmin P.A. Will Handle Your Case From Start to Finish
Lyft accidents can be more complicated than those involving passenger vehicle accidents. You will likely have to negotiate with multiple insurers since Lyft's insurance only applies if the Lyft driver was logged into the app at the time of the collision. Otherwise, your personal insurance coverage will apply.
Sharmin & Sharmin P.A. knows how to negotiate under these circumstances and may deploy several strategies if you hire us, including:
Preserving evidence to support your claims
Identify all responsible parties
Fight back if the insurer tries to blame you
Determine the applicable insurance coverage level
Negotiate for a fair settlement
Go to civil trial (if necessary)
Our Florida Lyft accident attorney has decades of expertise in resolving personal injury claim matters and has been at the forefront of rideshare injuries since the start. We will put this knowledge and experience behind your rideshare accident case to demand every penny you are owed by liable parties and insurers.
Is Lyft Liable for Their Driver's Accidents?
Lyft and other rideshares protect themselves from liability by maintaining that they do not employ drivers but provide only an app service connecting independent contractors with passengers. Florida, like most states, demands that Lyft provide some liability coverage for accidents. This system can be complex and depends on whether or not the driver was functioning as a Lyft service during the accident and at what stage of the service the accident took place. Lyft's liability coverage works in the following stages:
When the Lyft driver is using his car in a personal capacity without his Lyft app turned on, his own personal car insurance covers any injuries and property damage in an accident

When the Lyft driver isn't carrying a passenger but has his app turned on as he/she actively seeks a passenger or is meeting a passenger for pick up his or her own insurance may cover injuries and property damage, but in many cases will deny the claim. In the event of a denial, Lyft's mandatory 3rd party liability insurance coverage provides up to $50,000 per person or $100,000 per accident. It also provides $25,000 in property damage coverage.

If the Lyft driver is actively transporting a passenger when the accident occurs the driver's personal insurance will not provide coverage so Lyft's coverage provides up to $1,000,000 in personal injury insurance and full cash value of property damage with a $2,500 deductible.
If you've experienced an accident involving a Lyft driver in Florida, a Florida Lyft accident attorney can help you navigate the nuances of this complex system to determine liability in your claim.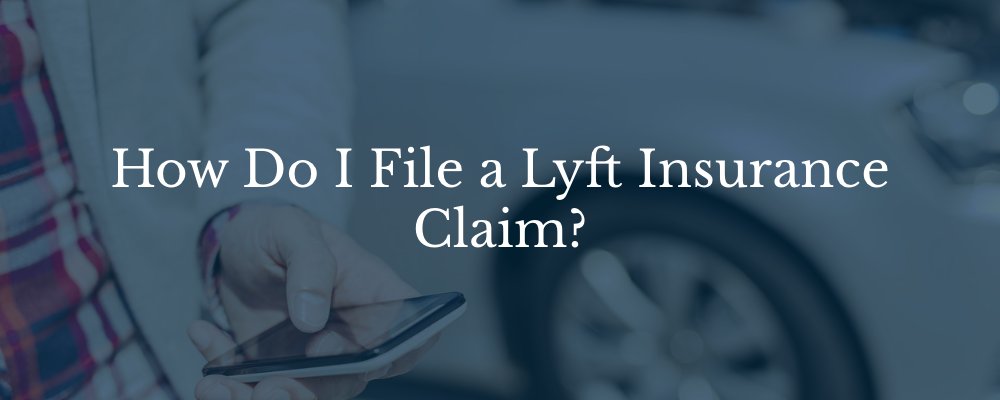 How Do I File a Lyft Insurance Claim?
If you've had a Lyft car accident in Florida, after you've filed a police report and had a complete medical evaluation, it's time to contact a Florida Lyft accident lawyer and file your Lyft insurance claim. First, use your app or browser to file a Lyft accident report. Then, your accident attorney will help you with the following steps:
Reporting the accident directly to the Lyft insurance company and/or the driver's personal insurance if the accident occurred when the driver's personal insurance was in place (when not using their app or transporting passengers)

File an insurance claim with your Florida no-fault insurance provider. If your claim exceeds $10,000 you can file a claim against Lyft's insurance or the driver's personal policy depending on whether or not the driver was using their vehicle for personal reasons or as a Lyft vehicle at the time of the crash

Field all communications between you and the insurance providers and protect you from seriously undervalued settlement offers until your claim is settled fairly with the maximum possible compensation for your damages.
How Does Lyft Protect Their Passengers and Drivers?
The rising popularity of Lyft, Uber, and other rideshare apps has led to a 3% increase in car accidents and related fatalities according to a study in 2019, and the number of rideshare vehicles on the roads has only increased since then. Lyft reports that they have a number of policies in place to protect their drivers and passengers. These safeguard measures include the following:
Lyft drivers must pass annual background checks

Drivers have mandatory training in driving safety

Children must be accompanied by an adult

Lyft vehicles must pass a safety inspection and in Florida, they must be no older than 2008 models

Most counties in Florida require Lyft drivers to be at least 25 years old

The Lyft emblem must be in clear display on the windshield when the car is in rideshare mode

Drivers must show proof of insurance and valid vehicle registration
Despite these safeguards, the growing numbers of rideshare vehicles on the road combined with driver fatigue and other problems mean many Lyft accidents occur annually.
Contact Our Florida Lyft Accident Attorney for a Free Consultation
Were you or a loved one injured in a Florida Lyft accident? It is difficult to hold the company driver accountable for your damages without a comprehensive understanding of personal injury laws. However, a Florida rideshare accident attorney can help. The difference between any rideshare company, medical expenses, insurance companies, or personal auto insurance can affect the way a rideshare service will be held accountable.
Call Sharmin & Sharmin P.A. for your free consultation at 1-844-SHARMIN. You can also message us online directly through the law firm's contact form. Please let us know if you are too injured to travel at the time of calling, and we can meet at your preferred location and provide medical attention.